Imagine yourself
in wonderland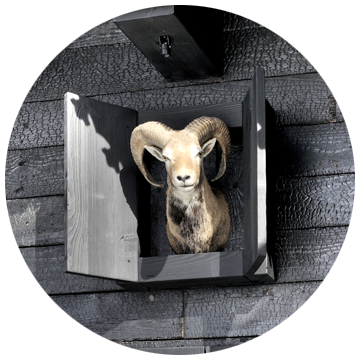 SISIMIUT Chalet promises a journey full of surprises. It takes its Greenlandic name from the unusual affinity that links us to this Arctic country, its breathtaking landscapes and its many revelations. SISIMIUT can accommodate 10 to 14 guests with 5 en-suite bedrooms.

FANTASTIC AND EXCEPTIONAL ARCHITECTURAL VOLUMES

With its 400 m2 of living space on 3 levels, SISIMIUT chalet embodies the dream and the unexpected.



From the outside, you will witness the telescoping of two elegant forms: A clear-cut meeting of the traditional Swiss chalet and an eminent contemporary construction. The sensational combination of black wood, friezes and picturesque ornaments with a sober, modern architecture whose fine lines of light wood are punctuated by large openings. This harmonious diptych is bound together by a foundation of dry stone.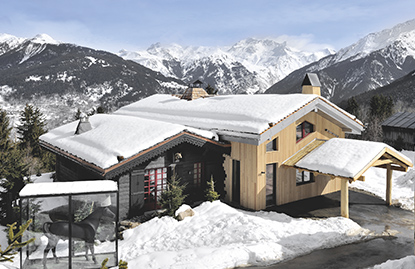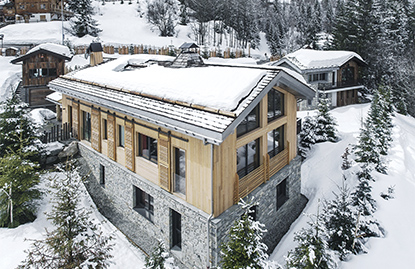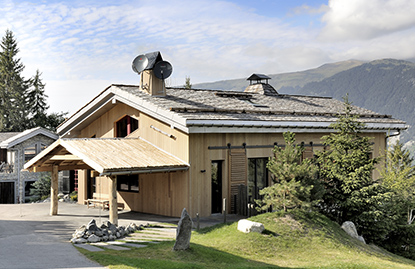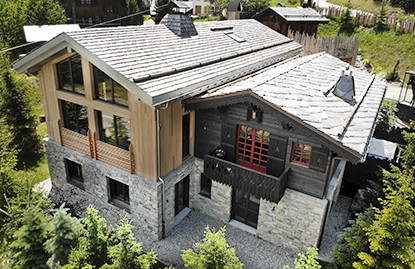 Inside, each door opens onto a new set of emotions and gives you an instant feeling of grandeur. The phenomenal perspectives respond to the impressive dimensions of the rooms.


The 45 m2 living room, the dining room and the semi-professional kitchen are ideal for sharing and intimate moments with family and friends. At the table, around the bar or by the fire, the refined and warm atmosphere of this large space is enriched by our unconditional love for contemporary art and crafts. Sumptuous materials, traditional coverings and harmonious colours are combined with elegant designer furnishings.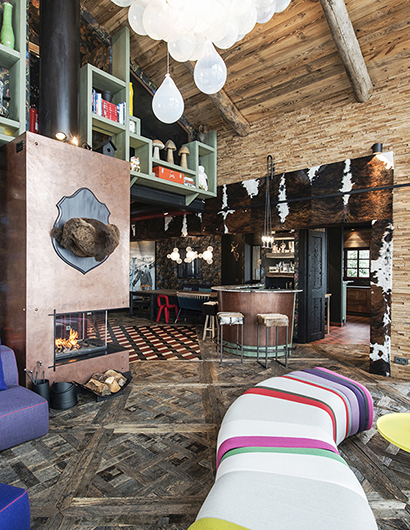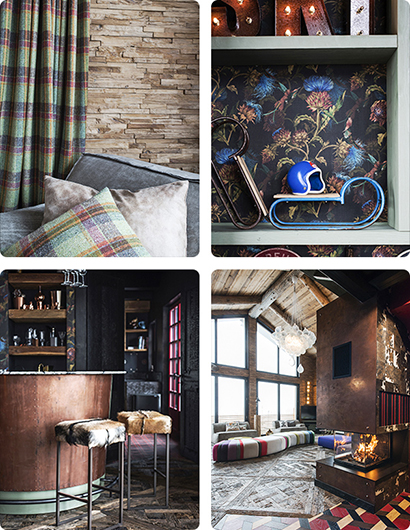 A unique comfort combined with originality and good humour with a selection of unusual objects found around the world. From room to room, the play of perspectives, imaginary landscapes, green scenes and other oversized prints parade with enchantment in this elegant and warm atmosphere. 

Whether it is for your future gourmet evenings or a desire for more confidential evenings, with the SISIMIUT chalet, luxury and enchantment won't fail to enhance your special moments.
ENJOY THE MOUNTAIN ON A GIANT SCREEN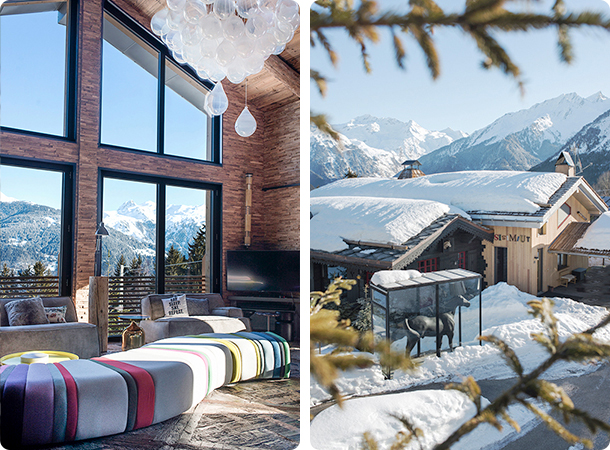 The oversized windows of SISIMIUT chalet offer a sensational view of the mountains.
The exterior blends with the living space, which is totally open onto nature. A transparency that allows you to fully enjoy the exceptional landscape.

Each room has a breathtakingly direct view of the environment and the alpine forests.
A horizon of snow-covered peaks in winter, a panorama of greenery in summer, from SISIMIUT chalet you are immersed in these  authentic landscapes all year round.
5 FABULOUS INSPIRATIONS 
FOR 5 MAJESTIC BEDROOMS


Open to the mountains and bathed in light, each of the five en-suite rooms at SISIMIUT is part of the magical symphony of the chalet. A harmonious concert of colours, surprises and enchantment.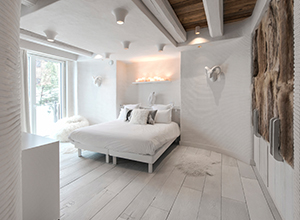 The « IGLOO » bedroom
Perfectly white, evokes all the magic of the Arctic paradises. 
Its authentic and comforting universe is adorned with raw materials and refined details. A handcrafted luxury illuminated by the immaculate white of the polar expanses. Its mohair curtains, stucco alcove and string of lights deliciously enhance its cosy atmosphere.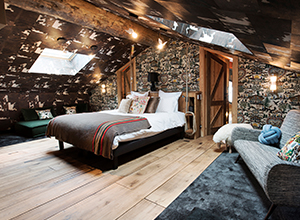 The « ALPAGE » bedroom
With its copper cauldron bathtub, immerses you into the gentle atmosphere of a revisited high altitude chalet.
Its hushed intimacy combines raw and noble materials. Natural stone, blonde wood and soft colours contribute to the mountain scenery with tradition, elegance and modernity.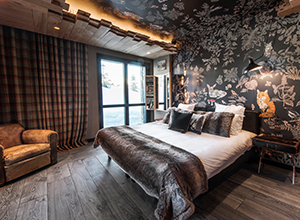 The « FOREST » bedroom
Its mysteries invites you into the heart of the woods. 
Its magical character blends poetry and legends. Emblematic motifs and flamboyant colours contribute to this joyful celebration. Here animals escape from the forest, snowy peaks stretch out... An astonishingly creative suite that transports you beyond your dreams.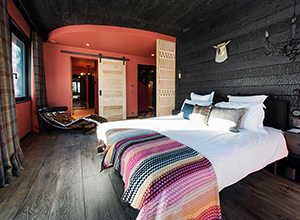 The « MOUNTAIN » bedroom
Its charred wood invites you into the mountains of today. 
Its contemporary style is magnified by a mosaic-like burnt wood finish. A refinement which contrasts sumptuously with the natural wood and luminous colours. The whole thing works a real magic where peaks and summits embellish the space down to the smallest detail.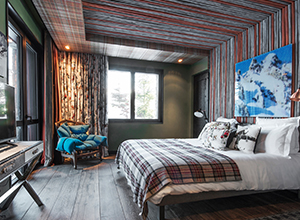 The « SKI » bedroom
It plays tribute to the original Courchevel.
Its vintage chic brings back the muffled atmosphere of the Alps of yesteryear and gives you a gentle feeling of well-being. A tribute to the winter sports of the fifties, decorated with wood and noble materials, a warm resurgence that echoes the call of the ski runs with the spirit of an authentic mountain.

WELLNESS DESTINATION

 




With its south-facing terrace, SISIMIUT chalet is full of surprises for your well-being.


First of all, there is a heated in/outdoor pool in a lush tropical setting. You will enjoy baths, massages and other SPA pleasures in the waterfall, under the stars as well as under the snow. You will also appreciate its steam room and its comfortable relaxation area. A soothing atmosphere sublimated by the banks of a high altitude lake thanks to amazing scenic lighting effects.



Also available is the NUUK Barn, a modular and modern space for your fitness activities: yoga, pilates, fitness, stretching, etc 


With its large windows, the NUUK Barn offers you a permanent view of the surrounding mountains. Enjoy the magical feeling of being outside while being inside, around a wood fire!

 
ASSOCIATED SERVICES & FACILITIES 


AmHome cinema atmosphere, wifi internet, wifi "Sonos" sound system, ski room, private parking, private shuttle (in winter), SISIMIUT chalet meets all the requirements of 5-star comfort and services. 


In addition to its concierge and hotel services, LE HAMEAU DE MARCANDOU offers numerous à la carte services to make your stay complete.


We personalise your welcome and our tailor-made services (chef, babysitting, ski instructor, sports coach, hairdresser, massage and manicure staff, dry cleaning, etc.).