SISIMIUT, A FANTASTIC GEM
Sisimiut is a 400m2 chalet offering 5 ensuite bedrooms, sleeping 10 to 14. Guests are inevitably struck by the size of its living area and the spectacular view of surrounding mountains.
The second chalet built in Le Hameau de Marcandou, Sisimiut reveals a subtile combination between precious materials, traditional coverings and objects unearthed from all over the world. It brings imaginary landscapes, and verdant sceneries together beautifully, further overwhelming the senses. From one room to another, perspective effects and colour harmony display their wonders in an elegant and cosy atmosphere.
This phenomenal chalet – on 3 floors – provides an unforgettable feeling of well-being and offers a perfect set-up – around the bar or the fireplace – for intimate moments or time of sharing with family or friends.
EXCEPTIONAL COMFORT
The fabulous salon of Sisimiut and its fully equipped kitchen – with or without chef – caters for the requirements of great gourmet dinner parties as well as intimate dinners for two.
Each of its 5 bedrooms is a marvel offering a sensational poetic universe.
Its top-of-the-line steam room, as well as its in/out swimming pool are an invitation to baths and massages under the starry skies and... the snowfall.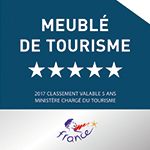 SERVICES INCLUDED
Personalized welcome
Concierge service
Ski room
Household linen
Breakfast
House cleaning
Firewood
Internet connection Wi-fi
Satellite channels HotBird and Astra
Private shuttle
Private parking spaces
Le Hameau de Marcandou also offers a large selection of à la carte services : cooking Chef, babysitting, ski instructor, sports coach, hairdresser, massages and manicure, laundry and dry cleaning, etc.